Searching in my messy world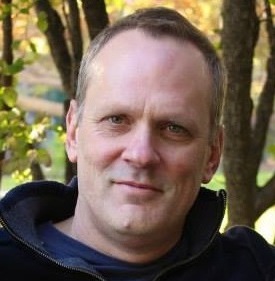 My name is Chris Kovac and today I am a pastor at West Highland Church.  I love my job but my life did not start in a pastor direction.  When I was ten years old, I went through an experience that rocked my world. My parents divorced. To be honest, I didn't know how to handle it, so I rebelled against everything. Before long, I found myself in the custody of the Children's aid society, which forced me to attend reform school for two years and live in a foster home for six months.
In high school, I began to sense that something was missing. I gave myself over to athletics and partying, thinking that these activities would bring satisfaction. I got the grades I needed so I could go to University in order to play football. However, by the time I arrived at University, my partying was out of control. My life consisted of a trail of broken relationships, bar fights, and hangovers.
One evening, while my roommate and I sat in our dorm room studying, Ragnar knocked at the door. "Rags", a short and stocky guy with shoulder-length hair, was from Sweden. He looked like a Viking! He asked if we wanted to attend a pizza party/Bible study in his room. Our appetites got the better of us, so we went.
After we filled up on pizza, Rags read something from the Bible and then led us in a discussion of the material. Although I showed up to satisfy my physical appetite, the pizza just didn't do it for me. I wanted something more. Once the others left, I went back to Rag's room and asked for a pocket New Testament. That year, I'd lie on my bed reading the New Testament, and when someone knocked at the door, I'd hide the Bible under my pillow because I didn't want anyone to know what I was doing.
The next year, I showed up for football training camp. My life was still pretty messy, and I hadn't arranged for a place to live. Rags invited me to stay at his place for a few days. When I got to his apartment, I noticed he had three bedrooms but only one roommate. I asked if I could just live there. Rags said that he'd need to check with his other roommate. Years later I learned that Ragnar never asked his earthly roommate but instead spent time asking God if taking me as a roommate was the right move. Apparently God gave Rags the green light, and the next year living in that apartment totally changed my life.
Some morning I'd come out of my room after a night of partying, and just the sight of Ragnar would bring tremendous guilt. Rags never said anything, and he didn't send any judgmental vibes my way. Later, I realized that he just loved me and lived out his faith, Ragnar also had an entire bookshelf filled with books on the Christian faith. I devoured most of those books that year and spent countless hours, sometimes into the wee hours of the morning, talking with Ragnar about spiritual issues. At some point that year, I placed my trust in Jesus, and God began working on various behaviours in my life.
It has been a long journey since then, with plenty of missteps on the way.  But God has helped me through all the situations I have had to face.  Rags and I continue to stay in touch, partnering on web articles relating to the gospel.  On our site we would like to share with you some of the things I learned as I journeyed to faith in Jesus Christ. Some of the questions I had were: "How can I know that the Bible is reliable?" "Why does God allow suffering?" "How is the Bible different from other Holy Books?" "What about science and religion?" "Who was Jesus?" "Did Jesus really rise from the dead?" Having my friend walk with me in my journey helped me alot and I would love to pass this forward and share with you in your journey.  I hope that some of these articles will trigger your curiosity to search further.  Please feel free to contact me with this form.  I would love to connect.